Agape Acres is a 43 acre family horse farm with rolling pastures, a large pond full of bass, beautiful oak trees, apple, peach and pear trees, and wildflowers galore! Nestled in the foothills of the North Georgia mountains and just an hour north of Atlanta, Agape Acres will provide the perfect location for any event or special occasion.
When they renovated the Barn, they envisioned an elegant, yet rustic barn, with lofted ceilings and open spaces for dancing, toasting and celebrating. The Barn, the Pavilion, the Rocking-chair Porch, the Courtyard, pond, and open pastures provide a one-of-a-kind backdrop for weddings, rehearsal dinners, dance-til-you-drop corporate events, reunions, holiday parties, and other celebrations.
The Gazebo overlooking the pond is the perfect place for a bride and groom to say "I do". Cindy built Agape Acres with the belief that there is no such thing as a one-size-fits-all wedding or event. From outdoor weddings, milestone birthday celebrations, family reunions, corporate parties, and other events...our North Georgia event space and wedding venue is where your storybook celebration happens! 
The Venue
Our 200-acre family farm is located just off State Hwy 400 in Dawsonville, Georgia. The Ceremony site rests on a tranquil 7-acre private lake surrounded by open-level pasture land with a natural curtain of trees that climbs the ridge behind the lake.
Choose where you want to exchange your vows from one of our mesmerizing indoor or outdoor ceremony sites. Enjoy getting ready for your special moment in the comfort & privacy of our grand Bridal Suite with your bridesmaids while your partner & his groomsmen pre-game in the Groom's Suite, complete with a poker table, fully reclining movie theatre chairs, & 65inch T.V.
Three Sisters Vineyards is a unique and genuine North Georgia venue for just about any wedding celebration. Named "Best Winery In The South" by TurnerSouth's Blue Ribbon Television Series, Three Sisters Vineyards is truly one of the great backdrops for a memorable special event. With 184 acres, Three Sisters Vineyards can accommodate small events to larger events with 100 to 150 guests….even 300 or more.
the social house :
Meet your study group, schedule your client meeting or special event; Canopy + the Roots is a lounge for livin' alive with floor to ceiling plants, a coffee bar serving Costa-Rican fresh-ground java and pastries.
the listening room:
We believe in the celebration of diversity and the thriving arts community here in the "peach state".  We hope each guest feels the heart behind the uncommon ambiance, offering, and experience here at Canopy + the Roots, Dahlonega.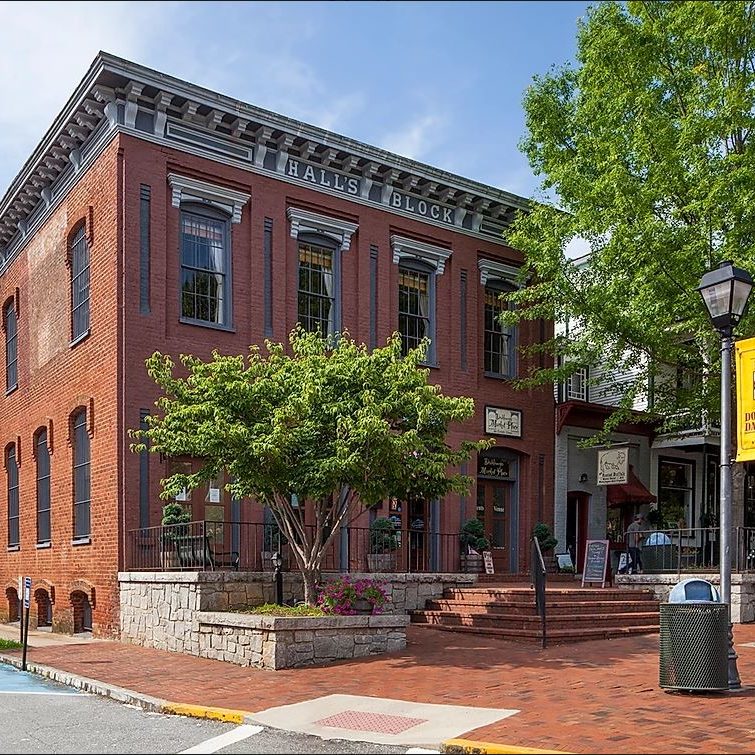 This venue is the perfect setting for your private or social occasions, as well as business/corporate functions. The Market Place is a 3,600 sq. ft. historic building decorated with subtle elegance and is available to host events 50 to 200 people. The charming three story brick building has great character with gorgeous windows and beautiful views of the Historic Dahlonega Square.
We have routinely hosted a variety of events at our vineyard including wedding ceremonies and receptions, reunions, birthday parties, and bachelorette and bachelor parties. Our tasting room, cabin, event barn, and property are available for events. Simply contact us with your expected dates and event requests!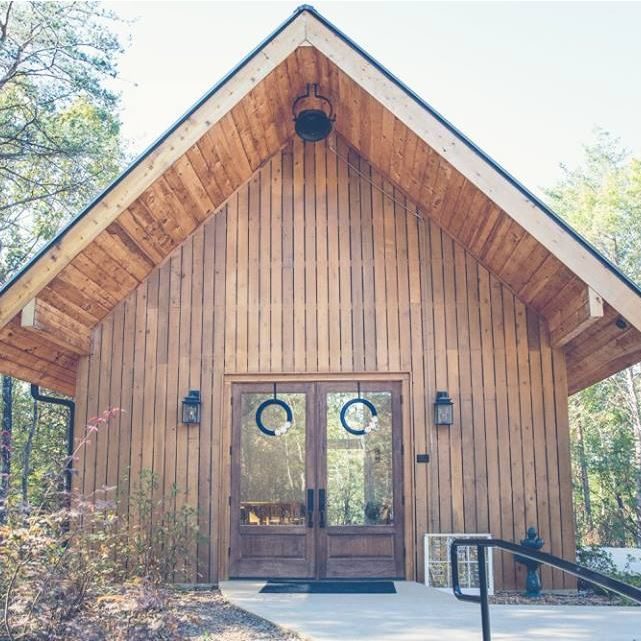 The Juliette Chapel is a lovely wedding and events venue and is the perfect setting for intimate weddings and events. If you love the great outdoors, you'll appreciate our rustic, yet elegant facilities that celebrate simplicity and the beauty of nature all around.
We specialize in intimate weddings for just the couple and up to 25 guests. Our passion is providing couples having an elopement or small wedding the same amenities enjoyed by couples with large elaborate weddings. Our approach is to treat every couple like they are family. Our beautiful grounds and personal touches make Cavender Castle one of the best small wedding venues in Georgia!
The name Vezalay comes from the French village Vezelay. As a college student visiting various regions of France, Vezelay was one memorable stop I clearly remember today. While my brother and I explored the town and surrounding countryside, a feeling of peace, serenity and beauty all combined to create a most positive experience
Vezalay is off to an encouraging beginning. People who have already visited confirm the special location and views. I will continually look for ways to enhance the property. Hopefully Vezalay will be known as a truly rich experience, complete with shared memories… and a permanent connection will be established for all who have visited.
Waters Mill is the perfect DIY wedding venue located in the North Georgia Mountains outside of Dahlonega, Georgia.  When you book a Wedding or Special Event at Waters Mill, we want the experience to be easy.  We will provide you with a preferred vendors list to assist you with your planning or you can "do it yourself".  For more information, visit our section.
Bull Mountain Lodge offers a variety of locations on the 40 acre, beautifully landscaped, private, wooded property for weddings, receptions, engagement photo sessions, and lodging. Smaller parties will love the intimacy of the gazebo that overlooks the creek and pond while larger parties will enjoy the 4000 sq. ft lodge that offers a large natural stone fireplace, front porch, and mountain view. Whatever the needs, we can accommodate. ​
Temporarily Closed to the Public.
We are open for private events & catering.
© 2022, Yahoola Creek Grill